Artist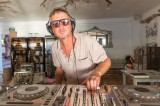 Chris Coco (Melodica Recordings)

Chris Coco is a tastemaker, DJ, broadcaster, producer, music curator, musician and journalist.


Chris Coco - Who is he? What does he do?

Chris Coco has been working as a DJ since the acid house explosion of the late 80s. He has edited DJ magazine, worked for BBC Radio 1 on the after hours show The Blue Room. He has made artist albums for Warp and Distinctive Records. He has made compilations for Playboy, Ministry of Sound, EMI Classical and Trojan Records. His music has appeared on many compilations including the big ones, Cafe Del Mar and Hotel Costes. His music has been featured Sex And The City, Nip Tuck, House and many other TV shows.
He currently broadcasts and syndicates a weekly electronic music radio show called Melodica and runs his label, Melodica Recordings, out of his studio/office in London.

His music style has developed from those original house beginnings and draws on those years of experience. His club/festival/party sets are mainly proper house featuring the best of the current releases and a selection of classics with a little slo mo disco and a few eclectic surprises thrown in. His sunset/beach sets are more laid back and eclectic, and are also something special.

Chris Coco Biography

Chris Coco is a tastemaker, DJ, broadcaster, producer, music curator, musician and journalist. www.chriscoco.com/ He is currently promoting his new artist album Freedom Street on his label MelodicaRecordings.

His radio show, Melodica, is growing from it's online home on Mixcloud to include broadcasts in cities from Sydney to Istanbul to Chicago. The Guardian called it "the hazy, lazy sound of the summer". Listen to weekly shows at www.mixcloud.com/chriscoco. The radio show is now a record label too. MelodicaRecordings has been operating since mid 2011. Top release so far is probably the Balearic hit Summer Breezin' by 3 Balearos. MelodicaRecordings website With a monthly residency at the noted East London dinner dance Disappearing Dining Club; plus regular gigs at big festivals Bestival, Glastonbury and Nova; at cool venues like Concrete and Star of Bethnal Green in London, Big Chill Bar in Bristol and international shows from Space in Ibiza to KuDeTa in Bali, Chris is a busy live DJ too. For more info contact dora@elitemm.co.uk

Current projects and recent successes:

Melodica: Weekly radio show. Listen to the latest online at www.mixcloud.com/chriscoco/ MelodicaRecordings: MelodicaRecordings website
Freedom Street: Chris Coco album project on MelodicaRecordings.
Lazy Summer: Annual mix/compilation CD for top Italian label Cool D:Vision, now in it's third successful year.

Key career moments:

2012 nominated in Chillout category for second year in a row in Ibiza DJ Awards. Released LP Freedom Street. 2011 – started MelodicaRecordings record label. 2009 – started Melodica, new radio show; made Feel Free Live Good album for Big Chill Recordings.
2008 – started band – City Reverb, cult single releases Time Side On, Central Heating and City Of Lights and live appearances at festivals including Glastonbury and Green Man and a special show at Tate Britain preceded an album called Lost City Folk. 2008 - presented Live Work Music for Ministry of Sound Radio.
2005-2008 - presented Bank Holiday Chillout and music documentaries for BBC Radio 2. 2006 – DJ on Robbie Williams world tour at all 64 shows and DJ warm up sets at many dates including San Siro, Milan; Parc Des Princes, Paris and The Bowl, Milton Keynes. 2002-2006 - presented Blue Room on BBC Radio 1 legendary, much loved late night weekend show with Rob Da Bank.
1999 – the present – Freelance DJ and producer, DJing on every continent except Antarctica. Djing at all the major clubs in Ibiza; at many major festivals including Glastonbury, Roskilde, Big Chill, Bestival; on tours of Australia, Far East, USA and many other places. Over the years, making compilations including Real Ibiza series, Solar Spectrums series, Blue Balearic, Dub Club, Chillin' at the Playboy Mansion, Ministry of Sound Sessions, The Big Freeze and Acoustic Chill.
1990s – Editor of DJ Magazine pioneering dance music bible covering the club scene in its heyday. 1980s – DJ in Brighton, England pioneering early acid house scene, resident at Coco Club at Zap Club.