Artist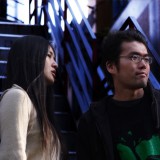 Dazzle Drums

Japanese DJ / Producer Dazzle Drums is the two of Nagi & Kei Sugano. Kei Sugano, The Hip Hop culture of '92 spurred him to be a DJ in the club and the disco in Tokyo. After a valuable experience from Tony Humphries and Timmy Regisford, he has mechanically changed his style to more Soulful Music based on House and Dance Classics, and led him to NYC for many times where he found his second roots in The Loft, Warehouse, Zanzibar, Sound Factory Bar, The Shelter, Body & SOUL and the other party.
Nagi, Loves the dance music since she was 15, but never been to disco nor club then. Experienced her first club was picked up by her gay friend in '96. On the dance floor, she sensed that she can express the personality no matter what nationality, and she soon started her DJ. And she joined "Smoker" which is japanese legendary DJ Nori's party he has been holding every wednesday at club LOOP in from '98 to '08.
The male and female Japanese duo behind these tracks, "Dazzle Drums", started their career in 2005, releasing on long established house labels "King Street Sounds", "Nite Grooves" and the UK's "Centric Music". In September of 2010, they founded their label, "Green Parrot Recordings", and continue to energetically pursue their DJ activities.