Artist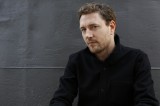 Dub Taylar aka Tigerskin aka Korsakow

Just take your time and a look on www.discogs.com/artist/tigerskin ,the world biggest online database for electronic music.
...The Discograyphy of Alex Krüger aka TIGERSKIN aka DUB TAYLOR aka KORSAKOW will be maybe one of the biggest you can find. It says all about the artist.
Well know as the producer of heavyweights like PHONIQUE and lot of other wellknown Artist around he also took some time to do dozens and dozens of own releases and remixes over the last 12 years.
Finally in 2008 he found some time to produce a new DUB TAYLOR album for the Berlin based Label OPPOSSUM called "HUMATRON".
DUB TAYLOR is his alias well known for the more dubbier Basic Channel influenced side of Techno.This time Alex comes up with a superb mixture of his versatile Producer Skills.
2008 was a strong year for him with releases on labels like Mood Music, Dirt Crew Rec or his own Organic Domain Imprint. Some of his tracks where licensed to the Mix CD´s like Steve Bugs Bugnology, Slams Sci Fi Hi Fi 5 or Ministry´s of Sound "Clubbers Guide to Berlin".
A Brazil, Australia and Japan Tour where a few more Highlites besides playing all around Europe.
The best thing about him is that he is this down to earth guy you can have a beer and chat about world politics with and just feel comfortable...like his music...