Artist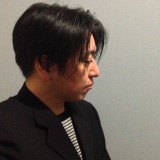 Gak Sato (Right Tempo / diet music)

In 1993, Gak Sato formed diet muisc with Hiroki Kaminaga and Ryuta Masuyama.
Their first demo tape was received by Mr. Horino and introduced to Raphael Sebbag, United Future Organization. In 1995, with the song "por el," diet music joined the compilation album called multidirection 2 (Brownswood/Talkin' loud), which was produced by U.F.O. and released around the world. In the same year, the band remixed Cano Caori's track "Les Rendevous de Paris" (Sony records) featuring Nargo, trumpeter from Tokyo Ska Paradise Orchestra, and Zoo's hit tune "Choo-choo train" (for-life records) collaborating with Jazz Brothers. With their approach of remixes, which reconstructed tracks of Latin jazz based on techno, dub, etc., they received cross-genre high acclaim in the club music scene.
After 1996, Gak Sato had been known as an artist/director for over 10 years in Right Tempo, Italy, and released a huge number of Italian O.S.T. reissues, remixes, and original albums. Currently he belongs to Manual of errors Artist and is also known in the field of sound art and as Theremin player, in Milan of Italy.