Artist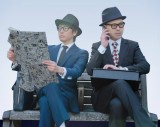 Guri Guri Boys

Guri Guri Boys stands for 'Great Unison of Real Indecent Boys'.
white‐collar workers on ordinary days, DJs on weekend.
Back in 2015, two common people met each other.
Once VITA was a guitarist on his band.
Once machamix played DJ at just his home.
After hitting it off well together with HOUSE MUSIC, they started to have gigs together and make disco tracks.
With disco classics and house music, guri guri boys catch your heart.
What's guri guri? Just take a look and feel it!
In 2015, they released their first single "Touch The Sky" featuring N'Dea Davenport of The Brand New Heavies via the prestigious NY label, King Street Sounds.
After partying all over Japan (Tokyo, Nagoya, Fukuoka) and boat parties in Tokyo Bay and Yokohama, they held an all-night gig in NY in April 2016.
In December of the same year, Guri Guri Boys released their first CD, "Guri Guri EP," which included the first single "Touch The Sky (Eric Kupper Remix)" as well as the second single "Unity." "Unity (DJ Spen & Gary Hudgins Remix)" is selling at #6 on Traxsource's Soulful House chart.
In July 2018, they released the third single "Be Yourself" featuring Josh Milan of Blaze, and the Manoo Remix debuted at #2 on the Traxsource overall chart and #1 on the Afro House chart. In addition, the track has made the top 10 charts of more than 130 prominent DJs, including David Morales, Terry Hunter, Jamie Lewis, Terrence Parker, Reel People and Purple Disco Machine. And also had 10,000 views on YouTube. The track has inspired many producers around the world and many remixes are still in the works.
In April 2020, they released the fourth single, "Sumthin' going on" featuring Tracy Hamlin, and Afro-house remix by Peppe Citarella garnered buzz with a Danny Krivit's chart nomination. 
They have also produced remixes. Their remix concept is inspired by house classics.
You can feel and enjoy their love and respect for house music through their play and songs.