Artist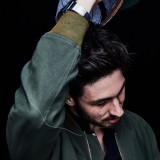 Hugo LX

House and Hip Hop producer based in Paris and Kyoto,
collaborating with labels such as Balance, R2 Records, My Love Is Underground, Faces & MCDE...
Also produced music for artist such as Elzhi (Slum Village), Homeboy Sandman (Stones Throw), Diamond..

Patience is a true virtue, and few know it more than french-born, nomadic music producer Hugo LX. After a whole childhood dedicated to meticulously taping house radio shows, carefully learning beatcraft since age 11, and slowly but surely building a solid and very ecclectic record collection, his first career highlights came when, being only 17, he started producing a string of releases for the Funk League collective with fellow parisian Suspect, thus collaborating with luminaries such as Large Professor, Diamond D, or Gif of Gab, crafting jazz and funk infused grooves with a classic trademark SP1200 sound.

Following these very creative time span, that saw the release of 2 EPs, 2 singles and the critically acclaimed "Funky As Usual" album, he left Hiphop aside and started travelling, mainly in Japan where he produced most of the music set to be released soon, and cultivated his passion for japanese jazz, electronic or ambiant music, leading to a radical shift in his production style.

He Also enjoyed this time to focus on the different fields of works he's involved in (he's also a former architect, currently working on acoustic research)

Wanting to expend his musical experience and feeling frustrated by a shelved album project and a certain lack of creative control, he decided to take 90 degrees turn and went back to his Deep House roots, under the guidance of parisian house activist Nick V. This moment marked a turnaround and a kind of renaissance, as he quickly gained the attention of respected pioneers such as Karizma, Chez Damier or DJ Spinna, thus being drafted by top shelf labels such as MCDE, My Love Is Underground, Balance or R2 Records. His singular releases allowed him to claim a special spot in the very active parisian house scene, subsequently granting him occasions to play his soulful, energetic and jazz infused selections in respected venues such as Concrete or Djoon in Paris, Jardin Suspendus in Marseille, and to hit the road as well, whether in UK, Germany or Japan.