Artist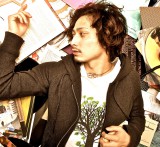 Iori Wakasa (Leaves Records)

Iori spent his early life on small islands, surrounded by the sea and the mountains.  He began to experiment with keyboards for the first time at the age of only 3, moving onto the piano by the age of 5. Even in these early years, he was drawn into the electronic sound; through game music, and heavily influenced by the tastes of his father.

As the years went on he devoted himself to the piano, which gave him an avenue to explore his feelings and sensitivity. Iori also became fascinated with the spirit of rock music, especially punk rock.  Although different in sound, this fascination allowed him to open his eyes to the addictiveness of deep and energetic dance music, particularly house and techno
By the age of 15 he became a part of Tokyo's nightclub scene, starting to DJ a couple of years later.  His sets would range from Detroit Techno, to Chicago House and Asian folk music, meaning he became indispensable in the club scene of Tokyo.

 His sets spun out a vortex of sound, his technique focused on mixing a wide range of genres such as House, Techno, Jazz, Funk, Down Tempo, Nu Disco, Chill, Breakbeats and Ambient, all interlaced with chaos and sophistication. His music allowed the audience to experience 'supernatural underground space, whilst being deeply wrapped in a magnificent forest.'

 Over the last three years Iori has played 450 gigs, including a European tour of 10 performances over four countries in 2010 and 2011. In Germany he was booked with Sis, Kollektiv, Termstrasse, Format; B and youANDme. He also appeared in Frankfurt at the 24th Anniversary party of Club Airport , playing to a crowd 6000-strong.

 His music reflects the warm and rich fellowship of an addictive groove in the brain, combined with raw humanity.  He describes it as 'hard-softness'; music entangled by a complex web of delicate and organic sound.

'Earth Steps' is the first release of Iori's on the emerging 'Baastard' label, handpicked by Vaal to be the statement record on the imprint.

His work has gained huge support over the last year from artists such as Ricaldo Villarobos,Zip,DJ T.,Satoshi Tomiie,Motorcitysoul,Richie Hawtin, Nic Fanciulli, Luciano, Kerri Chandler, Move D, Markus Shulz,Hermanez,Dyed Soundorom,David Squillace, Noir,Lee Foss, Pezzner, Alex Celler, Dubfire, Reboot, Robert Owens, Steve Lawler, Brother`s Vibe,Daniel Wang, Florian Kruse, Kolombo, Robosonic, Gorge, Slam, Shur-i-kan, Sante, Robert Babicz, Move D, Paco Osuna, Robert Grant, Mirco Violi, Andre Crom, Robert Dietz, Francesco Bonora, Satoshi Fumi and Franco Bianco.