Artist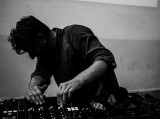 Jimpster (Jimpster)

Producer, DJ, remixer, label boss, taste-maker. Jamie Odell wears many hats and wears them well.
Under his Jimpster alias, he has become one the most revered deep house artists operating on the scene today. His esteemed labels Freerange and Delusions Of Grandeur continue to help break incredible new
music and equally impressive acts such as Detroit Swindle, Tornado Wallace and Session Victim. From his UK base, Jimpster has inadvertently become a standard-bearer and custodian of the authentic house sound, and
carries this flag to the four corners of the world.
Despite early releases dating right back to 1991 on Jumpin' & Pumpin', it was his seminal debut LP 'Messages From The Hub' which established Jimpster as an artist of note back in the late 90's. This LP brought critical
acclaim and invites for collaborations and remixes for artists as diverse as Coldcut, Kirk Degiorgio, Lamb, Airto Moreira and Bob Marley. The music has flowed steadily and consistently since then, mostly on Freerange, with the 2006 excursion 'Square Up' on Ben Watt's seminal Buzzin Fly label proving to be a (temporary) transfer of one London-based deep house icon to another.
Releases such as 'English Rose', 'Dangly Panther', 'A Love Like This' and 'Can't Stop Loving' continue to be choice cuts for many DJ's whilst 'These Times' and 'Porchlight And Rocking Chairs', two more recent deep house anthems, were remixed by Dixon and KiNK to serious effect. 2016 proved to be a landmark year with Freerange celebrating 20 years in the business, a collaboration EP with Japan's Kuniyuki, remixes for Galcher Lustwerk and Mr V, and an EP on German imprint Systematic including remixes from Adam Port and Hyenah.
2017 proved to be one of his strongest yet with his Silent Stars LP dropping in April, remixes for Adam Port and Kerri Chandler causing serious damage and his Step By Step track for Suol appearing in countless charts and holding the top spot on Traxsource for months. More recently we've seen him dropping serious heat for the dance floor in the form of Burning Up as well as a huge remix of Bawrut's More Cowbell. His recent release Curve just received a rave review on RA and hit the top spots on the deep house vinyl and digital charts.
His current stat count as a remixer is touching a century and the acts to receive his midas touch include everyone from Osunlade ("Mommas Groove" still being hammered by Moodymann on a regular basis), Solomun, Kollektiv Turmstrasse and Josh Wink ('Jus Right' stole the show at Dixon's 2015 Detroit Movement set) through to Bob Marley, Seal and Terrence Parker. More recent remixes for Detroit Swindle, Hot Since 82 and Danny Howells show that the inspiration is still flowing thick and fast and he is currently hard at work putting together his first live show since his early days in the late 90's.
With Jimpster still doing the business at globally renowned hotspots like Output (New York), Womb (Tokyo), and Watergate (Berlin), a slew of new music on the way including a new LP and with almost three decades of
experience to draw on, we see clearly that the fire is still burning as brightly as ever.
As he puts it himself, "The mission is clear: to try to inject warmth, depth, soul, sincerity and attitude to both my productions and my DJ sets. This is what sets the major players apart from the pretenders. That challenge is what keeps me focused and inspired 30 years on and I'm sure it will keep me on my toes for many years to come."