Artist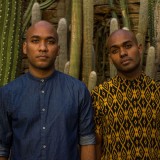 KEENE (Cacao Records)

Berlín based Panamanian brothers who have released on labels like Connected, Get Physical and Exploited, run their own Cacao Records imprint and joined the Watergate Crew since the end of 2018.

K.E.E.N.E. is the duo formed by the brothers Lloyd and Kevin Keene, who since 2010 have become a referent for house and techno music in Panama.

The K.E.E.N.E. sound is clearly seductive and elegant, taking elements of Deep, House and Techno genres. That unique brotherly complicity is poured into what they do, with their combined musical and technical talents eliminating their possible weaknesses. Both are perfectionists that have found their personal way of making music, a process that is an organic as it is electronic, and you just have to see the dancing throng while they dj to understand it.

Besides managing Late Night Music's roaster of shows in Panama, K.E.E.N.E. moved to Berlin to focus on their production. Currently settled their studio and headquarters at the prestigious Riverside Studios in the heart of Berlin's creative district and started a Berlin based label called Cacao Records. In 2018 they have embarked on a new club dedicated to electronic music at a basement of an old building in Panama City's old town.