Artist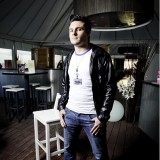 Rio Dela Duna

DJ / Producer from Montpellier (France), Rio Dela Duna is a Bob Sinclar's official remixer. He signs with international labels as Copyright Recordings (Copyright / UK), Stereo Productions (Dj Chus / SP), Housesession Records (Tune Brothers / GE), Stealth Records (Roger Sanchez / US), Pacha Recordings (Pacha / SP), Subliminal Records (Erick Morillo / US) and many others...
In 2012, He creates VAMOS MUSIC, the tech-house part of the Housesession label group, that is becoming one of the main labels on the tech-house scene. The Vamos radio show is played in FM station radios all over the world!
Rio Dela Duna is supported by Bob Sinclar, Antoine Clamaran, David Herrero, or again Roger Sanchez who invited him as "guest mix" on his radio show Release Yourself! Beside Chris Montana, he becomes an Ibiza World Club Tour member and get a weekly residency on FG DJ Radio USA. Playing alongside artists as Tune Brothers, David Penn, D.O.N.S., Peter Gelderblom, Chris Montana and many more... Rio Dela Duna plays at the main events of the electronic music conferences : Miami WMC, Amsterdam Dance Event or again in Ibiza.