Artist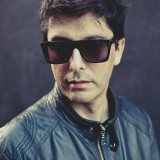 Rui Da Silva

Rui da Silva has long been recognized as one of Portugal's most precious exports. His name is now synonymous with quality dance music. Since 2000 when Rui unleashed the gargantuan number 1 hit single 'Touch Me' onto the dance scene, his name has shot to stellar proportions as one of the world's best tribal/progressive DJs and producers.

Rui's debut release in '92 was experimental to say the least. Rui admits, "I was into things like Japan, David Sylvia, Brian Eno and Sonic Youth. The first record I did was the result of some experimental jamming sessions. I had a bass and an amplifier and I sold them and bought a drum machine and sampler…we pressed a couple of copies". From those humble beginnings tinkering with electronics, Rui formed a new label, 'Kaos Records'. Rui's innovative and quality sounds elevated 'Kaos' to the pinnacle of the house movement, while securing him a licensing to the late 'Tribal Records' and more recently to 'Twisted Records' (USA). Rui's success with 'Kaos' ensured global exposure and provided him with the confidence to develop the 'Underground Sound of Lisbon' with close friend, DJ Vibe. Through USL's underground classics, including 'So Get Up', 'Dance With Me', and 'Are You Looking For Me', in addition to numerous compilations and remix's, Rui filled a void in a country better known for its port and sandy beaches.

Disgruntled with a local club scene that was becoming more of a distraction than an inspiration, he left Portugal in 1999 to immerse himself in London's booming music industry. Rui believed that this was "where things are happening, where more people are exposed to my music." London, needless to say, was smitten with the newcomer, and Rui quickly established a considerable following and a high level of exposure, ultimately enabling him to set up a new label, 'Kismet Records' in 2000.

'Kismet', a Turkish word for 'fulfillment of destiny', not only represents anyone committed to that genuine underground house sound, but also heralds the fulfillment in destiny of its label owner, Rui Da Silva. Kismet has garnered praise and a loyal following from the dance industry because of the genuinely underground nature of the tracks. Some of the biggest names in clubland support the label including Danny Tenaglia, Sasha and John Digweed. Since it's first release, 'The Lights' (USL), Rui has started an label collaboration with Chris Coco a long standing friend who has given himself the name CocoDaSilva. 'Kismet's' success was further fuelled with their fourth release, 'Touch Me' which went straight to number 1 in the pop charts and turned out to be a massive crossover success. It subsequently won a Muzik award for being the biggest single in 2001.

2002 has seen Rui spend as much time in the studio as out fine-tuning his turntable skills. His DJing career has got busier than ever and takes him all around the world. This Summer has seen Rui play all the top clubs in Ibiza including Amnesia, Pacha and Space. He is warming up for a Tour of the Far East and his Djing is taking him to countries all around Europe.

Rui's skills as a re-mixer are also highly sought after. He has worked with Djs and pop stars from Danny Tenaglia to Jennifer Lopez. Yoko Ono has also approached Rui to rework "Walking On Thin Ice" the last track that she and John Lennon worked on before he was murdered. It will be released in Spring 2003 at the same time as Rui's next release, "Feel the Love" which is set to replicate the same kind of success as "Touch Me". In other words, Rui Da Silva is set to take over the world.