Artist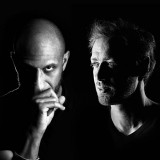 Sid Vaga & Herald

Sid Vaga & Herald are two French natives.
Sid now lives in New York City and Herald in Paris.

Two people who came together through colliding musical worlds as established and respected artists in their own right.

Meeting on the grounds of a mutual love for creating and spinning high caliber electronic dance music. The pair originally connected through Herald's proposal to remix Sid's track 'Sereias' on Brooklyn based label Wonderwheel Records. A few months later, Sid remixed Herald's 'Eartha' on the French label Laboratory.

With both releases and remixes receiving worthy industry support, it became clear the two artists were to become not only collaborators, but good friends with genuine artistic synergy.

Herald brought to the table his experiences through releasing on world renown labels such as: Serial Recordings, Laboratory and Joeski's Maya Records. And Sid likewise on Wonderwheel, 3Bridges, Deeplomatic and Unknown Season (Tokyo).

The fusion of their backgrounds they each bring to projects is what led them to signing tracks like their mega collaboration project, 'Be As One' featuring vocals by Roy Davis Jr., on pristine electronic music label, Kling Klong Records (Berlin). This track was remixed by Toronto's illustrious, Nathan Barato (Hot Creations). 

Then earlier this year the duo released on Great Stuff Recording's 'To the Underground' compilation with the track 'It's On'.

Those releases turned some big heads their way with receiving support by some of dance music's elite class vis-à-vis: Monika Kruse, Riva Starr, Josh Butler, Martin Eyerer, Wally Lopez and DJ Chus to name a few. . .

Since then their tracks got picked up on countless compilations on labels such as Abode, Toolroom Records, Natura Viva, Voltaire Music and more.


Forging forward on that momentum, Sid and Herald's recent productions have found homes on M.In's label My Favourite Freaks with a 2 track EP 'Journey' featuring original vocals by none other than house music icon and veteran Roland Clark including a massive remix by Davina Moss due to come out very soon!

Simply put, Sid and Herald are truly passionate about music and sharing their gifts and talents to underground electronic music lovers all over the globe.