Artist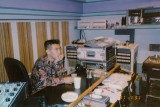 Soichi Terada (Far East Recordings)

Soichi Terada is a composer, arranger, and remixer who has been musically active since 1985. Terada studied computer science at the University of Electro-Communications, and it was while still in college that he launched his music career. He is also the founder of Far East Recording since since 1989, the label which releases some of his music. He has been producing a wide variety of house,electro and techno music collaborated with other artists (some of them visual artists, not musicians). The sound is characterized by the seamless mixture of Japanese traditional music and electronic music. Youtube : https://www.youtube.com/user/fareastrecording from 1998 he started to compose to some video games like "Ape Escape" series and "Fantavion". And then he also get started to have Omodaka performance from 2009 with singing flat screen and small game consoles.
I had an opportunity to make some remix of "Nami Shimada" a Japanese female shinger
in 1989. The composer "Yosuke Sugiyama" offered me to produce remix tracks of
her songs because of hearing to my 12" records,and "Sun Shower" was one of them.
Then I brought records including "Sun Shower" to New York in December 1989, and some
DJs like Larry Levan or Victor Rosado started to play the song via Hisa Ishioka an organizer
of NY house music scene. I was so happy to have much order to make remix,many friends
and musical relations since "Sun Shower" has been listened to many people.