Artist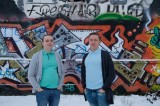 X Brazas

X Brazas are a new production outfit, made up of two brothers who are fast making a name for themselves.

To date the duo have 10 EP's and few compilations under their belts, attracting the attention of Hotfingers and Mr Richie Hawtin, who has been a big champion of their 'We Are Able' track. 'Childhood' track reached 23rd place of Traxsource TOP 100 Deep House chart so far, 'Get Funky' release featured in Beatport's Top 10 'Must Hear' Nu Disco/Indie House tracks and 'Take Off' reached TOP 50 of Deep House chart on Traxsource. Quickly followed up by the Good Things EP and few others with the releases featuring in many Charts and Featured section of traxsource as well as picked as favourite by many Djs and radio stations.

The duo have been making music for several years with 10 EP releases under their belts already, and promptly attracting the attention of Hotfingers, Sofa Sessions (Lucidflow), Deepers Shades Recordings and none other than Richie Hawtin, who has played their stunning track 'We Are Able' on many accasions while travelling around the World.