Artist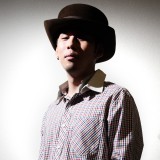 Ryoma Takemasa (Apostrophe)

Japanese Producer / DJ
He Spent his childhood in United States for 10 years. After he came back to Japan, he started his career as hip hop DJ. Specially influenced by artist like A Tribe Called Quest, O.C., Nas, Jeru The Damaja, Black Moon. He released debut EP from Paul Mac`s Stimulus Records including Paul Mac`s remix. He started own label Apostrophe and released first 12 inch end of 2008. He started to continue releasing from Japanese upcoming label UNKNOWN season from 2011. He earned great feedbacks from DJs like Laurent Garnier and James Holden especially Deepn` remixed by Gonno and The backwoods. Ryoma will release Deepn` Remixes from Ene records on 12 inch and first album from UNKNOWN season.